Gutiérrez Hubbell House is open to the public!
We invite you to join us for a 𝗴𝘂𝗶𝗱𝗲𝗱 𝘁𝗼𝘂𝗿 of the outdoor exhibit Enchiladas: A global journey to New Mexico. Guided tours will be available weekly Thursday – Sunday from 10 a.m. – 6 p.m.
Register for a guided tour:
tinyurl.com/OutdoorGuidedTour
Find out more:
bernco.gov/EnchiladaExhibit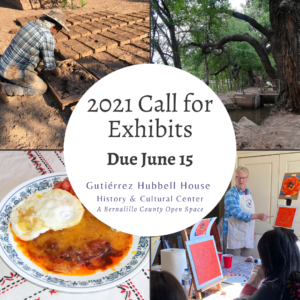 Exhibit Call
Exhibit Call is currently underway! 
Exhibits
Enduring Querencias: Lost and Reclaimed Expression of Home is the current outdoor exhibit on display through April 2021.
Events
Backyard Farming Buzz
Backyard Farming Buzz will be returning in-person! Registration is required.
La Bandera
La Bandera is a quarterly newsletter put out by the Gutiérrez Hubbell House Alliance
Gutiérrez Hubbell House Alliance Membership
Become a Gutiérrez Hubbell House Alliance Member today!